Hi everyone! Happy Fri-yay! Is anyone looking forward to the weekend? I work all weekend, but I'm meeting up with some friends Saturday night so that's exciting!
I have a few favorites to share with you on this Friday! There's even a workout and recipe included below! It's been awhile since I've shared either of those! As always a huge thank you to Heather for creating and hosting such a wonderful link-up. You can head over to her blog if you want to see some more favorites!
Let's get into it!
I can't take credit for this recipe at all. I first saw Emily Duncan's on her Instagram @em_dunc and YouTube. It's great because you can use any kind of protein powder and put whatever toppings you like on it. The one I showed in this week's WIAW actually used two different kinds of protein and had all the toppings!
The base recipe is: 1 scoop of protein, 1 cup of milk (I use almond or cashew), ice, and 1/4-1/2 tsp of xantham gum. It's actually that simple! The one pictured above had a scoop of chocolate protein and a scoop of peanut butter marshmallow protein. I topped it with melted peanut butter/chocolate peanut butter, greek yogurt, cookie dough poptart, and chocolate chips. The xantham gum makes it really thick and voluminous so I can usually eat it in 1-2 sittings!
This is a random favorite, but earlier this week, I started using an actual clock again. I've been using my phone for forever, but noticed that I hit snooze way too much! I set my clock up on the opposite side of my room so that when it goes off I have to get up out of bed. This has been working great for early morning workouts because I find once I'm out of bed and standing, I don't feel the need to go back to bed. If you're a chronic snoozer, you may want to try this!
After my field hockey tournament this past weekend, I have been more motivated in the gym. My leg workout on Tuesday speaks for this! I did a quad focus workout with supersets. I supersetted a movement with a plyometric exercise. It kept my heart rate up and had me sweating! 
I started the workout by walking for 10 minutes of incline walking on the treadmill before going through the exercises above. Use weight that is challenging to you and if you're a beginner, I would drop down the amount of times you repeat the superset. The split squat jumps are with your back food on a bench. The side bench jumps were done on a lower box and I had one foot on the ground. I powered up with the leg that was on the box with a little hop then landed softly and repeated. I don't know if those explanations made sense, if they didn't feel free to ask any questions if you want to try it yourself. Following the workout, I made sure to stretch realllllly good! I was so sore the next two days afterwards.
These are how I like to end most of my nights. I've shared a couple in my previous WIAWs if you've seen them. The recipe is super simple: 1 scoop of chocolate protein, 1/4 cup of milk (I use almond or cashew), 1 Tbsp of cocoa, and 1/2 tsp of baking powder. All you do it mix it all together and then put it in the microwave for 30s. It's still runny in the middle, but brownielike around the edges. I like to throw in some chocolate chips and dabs of cream cheese. After it's done in the microwave I like to top it with melted peanut butter!
It's really good and I highly recommend you try it if you're craving a brownie/cake one night!
While I was away this past weekend, I picked up a couple new things from Lululemon. Previously, I only had a Scuba hoodie and a pair of cropped black leggings. I had been really wanting a pair of Wunder Unders so I got myself a pair of black ones! I also picked up the Energy Bra in bali breeze/heathered silver spoon. I absolutely love both of them and know I will get a lot of wear out of them! It was so hard not to pick up more, but I didn't want my bank account to hurt even more! The picture below is from their website.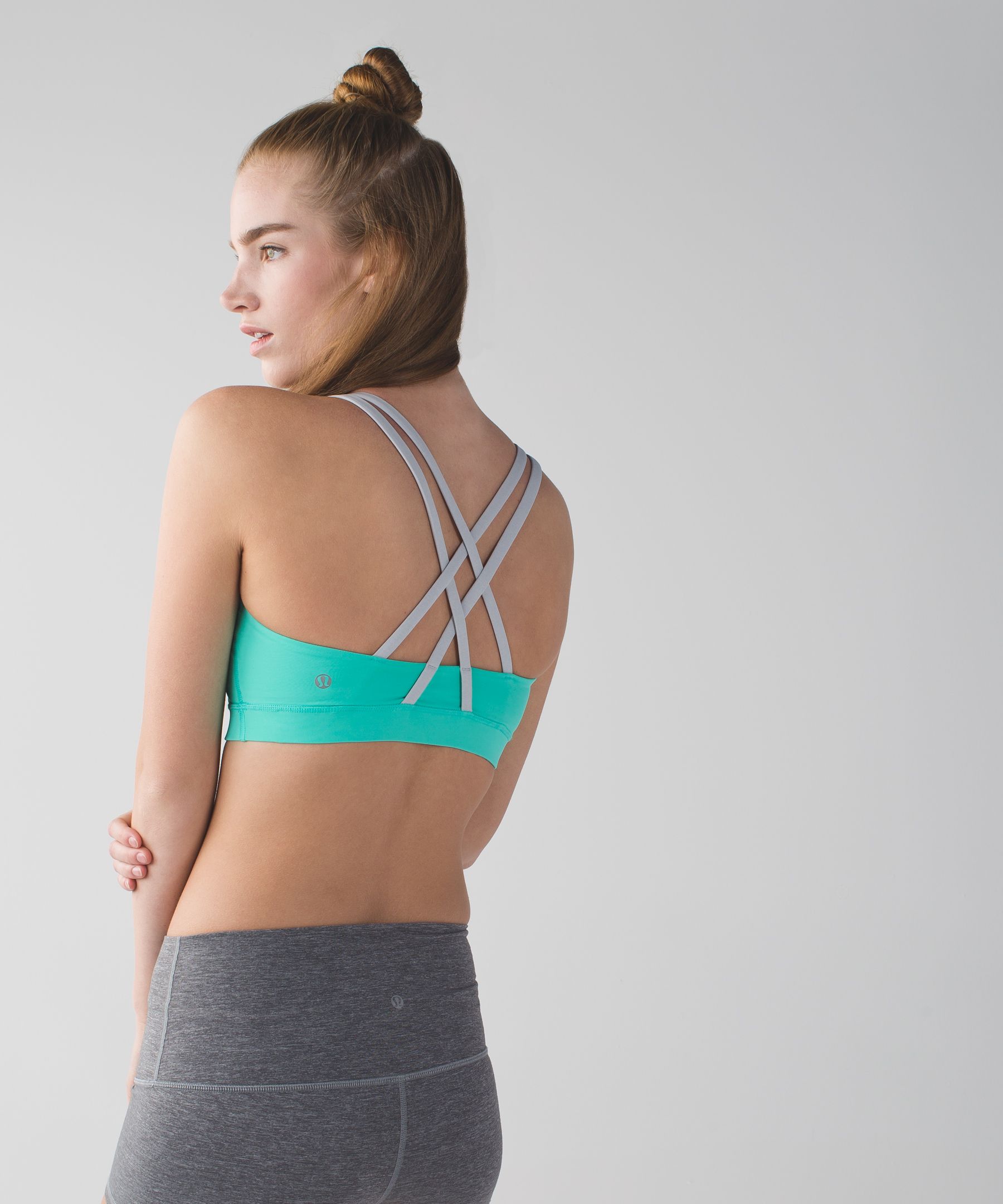 Those are my favorites for this week! I'd love to hear about some things you've been loving! Have a great weekend everyone!